I'm going to
continue
with the crafti-sh related piccies for the movies I saw in July, though I am cheating a bit because there's some comics I love too. But comics are crafty... they're artfully drawn.
Flash Gordon
(H)
A read a review for Ted (see below), that said be sure to watch this movie before you see Ted to get the full extent of the in jokes. In it's own right, this movie was rad. So retro, so bad that it was good. Definitely a super fun popcorn movie. And a soundtrack by Queen!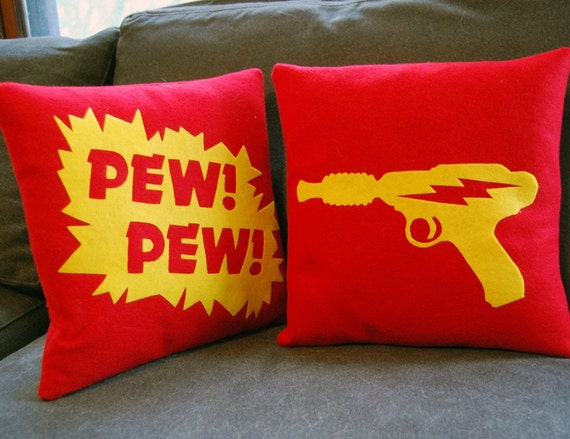 As an aside, "Pew Pew" is one of my favourite things to say (via)

Ted
(M)
Thank goodness I watched Flash Gordon (see above). When A and I went to see this, the theatre was packed, and there were so many moments, involving FG, that were histerical because FG was so fresh in our minds. A few times I stopped laughing and notcied I was the only one. Come on people, lighten up! Definitely see this, lives up to the hype!! I love it when Marky Mark gets his Boston accent on too!
The Amazing Spiderman
(M)(N)
I had super low expectations for this movie, I mean - seriously, remake a movie that was made 10 years ago? Come onnn you must have some new ideas??? Plus, don't mess with Sam Raimi and Bruce Campbell. Just don't. And then, I quite enjoyed it. It had a lot of problems, but it was ok.

I saw this comic before I saw the movie, and during the movie I was insanely distracted by those floaty specks (via) (see also Kate Beaton's spidey)
Pride and Prejudice
(1995) (N)
We have all seen this and we all love it. Upon watching it last month, I laughed a lot more than I ought to I'm certain. For example, when Mr Darcy's face appears in Elizabeth's mirror; when Mr Darcy is agonisingly writing the letter; the bath bit. I do have one lingering question ... when are bonnets going to come back into fashion? I think I would look rather fetching in a bonnet!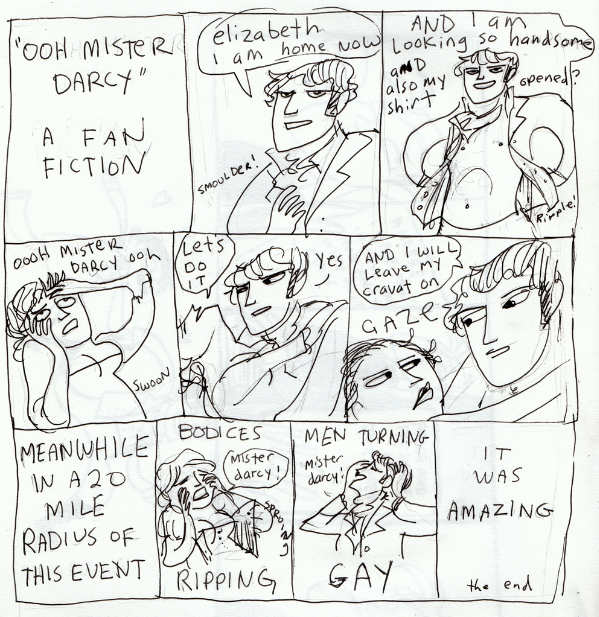 Love Kate Beaton. Oh so much, (via)

Pride and Prejudice (2005)
(H)
Do you do this too? After reading a book you must watch the film adaptation? Do you do what I do, and watch
as many adaptations as you can get your hands on?
Well, that's what I do. I hadn't seen this yet, and I should not have really bothered. It was as expected. I don't like Keira Knightley's mouth. But I did like Matthew Macfadyen. And it ended in a weird place. Please refer to the above when looking for your P&P fix.

Jane Eyre (1997)
(N)
I quite like this verion, I quite like the dude that plays Rochester.

Little Women
(N)
Just re-watching an old favourite. Such a good movie, with lovely people in it. If you haven't seen it, see it. That is all. 

The Dark Knight Rises
(M) x 2
This movie. I will have this movie's babies. I surely will. I saw this movie twice in July, and plan on seeing it at least as many times again. I was unsure going into it - could it live up to the hype? But it did!! Everyone was brill in this movie, Bale, Hathaway, Levitt, Oldman. Love.
Sexy batman (via)
The Big Hit
(H)
Marky Mark
, you are wonderful, even back in the day before you were big. This was a great movie! Very fun, good action and guns shooting etc. Kidnap movie where the abductee falls in love wither her nice guy abductor - we've all been there. 

H = movies from the DVD vault at home
M = movies at the theatre
N = movies I watched while in
Noosa
Pick of the month:
Batman! Duh!
So, have you seen any good movies lately?