Ok, my title has only a tenuous connection to this post, sorry
Green Lantern
fans. I just couldn't think of anything cleverer.
I started a new
shawl
on Monday, it's
Lynne Sibley's
Sailor Blues Shawl
. I've
already mentioned
how much I love Lynne as a crocheter - she comes up with the most ingenious designs! I had a 6 hour round train trip to
Moe
on Monday, so I picked this out as a new commuter project. I'll tell you, it's really slow going. You can see by my extremely terrible picture it works up to a fairly dense fabric, and with the 2ply its going to be a long process. So far I've worked 21cm. I'm finding the black yarn makes it a bit difficult to see the end stitches, and I can't really tell where I'm up to (despite only a 4 row repeat), so I'm going to get out a bunch of stitch markers to try to keep track.
I'm going to work this in the black yarn left over from
Dahlia III
and then add purple stripes with some random 2ply remnants I got for $2 from the
bwm
bargain room. 
I have no idea how I am going to show you the stitch pattern. It really is quite nice, trust me. Also, why is my shawl looking humpy? I'm going to rely on blocking to fix that.
And what am I reading? I finished the second
Curse Workers
book this morning, Red Glove. I'm enjoying the series, though the first book is my favourite so far - even though I guessed the twist, it was super interesting. Red Glove ended in an interesting way, so I'm looking forward to Black Heart!  (Thanks again for recommending the books
Lisa
!)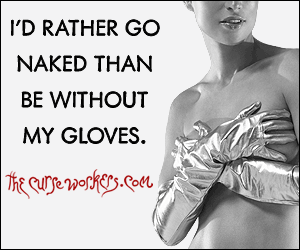 I too would like to go naked if I had a body like that (via)
-Linking to-