Hiya. As usual, many more WIPs for me than Fins... I've started two more things this week.
Numero one. I've been getting my amigurumi on. Woo! I won't tell you what it is yet.. can you guess?
I've been told it looks like a potato. Hence the title to my post, which reminds me of this LOTR scene. Well, it didnt really happen like that but you get my gist.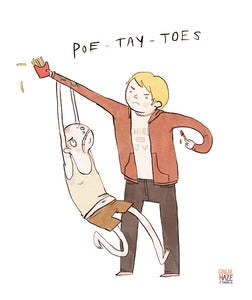 via
(Also, all you whovians out there, have you seen
this cool pic
of Space Gandalf? hehe)
Numero two. My mother had this brainwaive of making the three grandchildren (my nieces) a little cardi each for chrissy. I've been trying to teach her to crochet, but she is quite absent minded and doesn't like following patterns. So I've been told
I
need to make three of these by Christmas. Below is progress on the first one, I think I have about 5 rows to go, and only a couple of hours work. Easy Peasy! The pattern is
Urban Girl Cropped Cardi
. I'm using
Carnival Soft 8ply
, just an acrylic, but look at the size of the ball it comes it!! Aieeee! I have to carry this mother on the train!
An onto the
CITY WATCH AUDIO BOOK CHALLENGE!
(Part 1
here
) I am now onto book 2:
Men at Arms
. I believe I have only read this once, so it is lovely to go over it again. I'm really terrible with books, after finishing one I forget the detail right away. I am generally only left with an impression of whether or not I liked the book, and a couple of images that really stuck with me. In this case it's largely Carrot and Angua. There isn't as much Vimes as in
Guards Guards
, but its still very good to see how he is developed. And of course Sybil. Love Sybil.

The City Watch Audio Book Challenge. Progress: Book 2 - Men at Arms.
And finally, here's a cool Pratchett flowchart I found on
Pinterest
! A handy little tool if you're interested in Discworld and don't know where to start! Because of this list I found out that I'd missed the short stories! Shameful, I know. You can read
Theatre of Cruelty
here, it has a funny exchange between Carrot and Death. Perhaps I will re-read the Death books next...

Remember to stop by
Tami's Amis
and
Yarn Along
for more yarny and literary delights!